Hillside Memorial Park and Mortuary was established in 1941 to meet the needs of the expanding number of Jews who had migrated to the Southern California area. It is owned by Temple Israel of Hollywood, a Reform congregation, and is overseen by the Temple through its Hillside Council of Directors.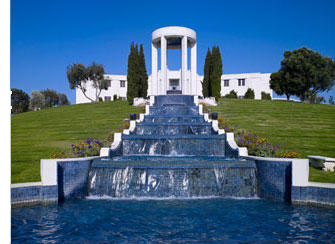 In 1951, the legendary entertainer Al Jolson was buried in what has become the iconic symbol of Hillside. The monument consists of a towering white stone canopy held aloft by six white stone columns, with a series of terraced, blue-tiled waterfalls cascading down the hillside. The inner dome of this canopy contains a large mosaic of Moses holding the Ten Commandments. Beneath the canopy is Jolson's marble sarcophagus.
Hillside provides a full range of mortuary and cemetery services and meets the diverse needs of the people it serves. Mortuary services may include the traditional shmira and tahara as well as embalming or the facilitation of cremation services. Hillside offers caskets and urns for sale and in the memorial park there are a number of interment options including in-ground burial spaces, family estates and above ground wall crypts, mausoleums and sarcophagi as well as several options for cremated remains. All are surrounded by rolling hills, blossoming trees and the soothing music of flowing water, an ideal setting to remember and honor a loved one.
Reflecting a commitment to the entire Jewish community, Hillside does not separate families and non-Jewish spouses are buried together with their Jewish partners. However, only Jewish symbols may be used and only Jewish or non-denominational services may be held on the grounds. Two chapels are available for funerals and memorial services.
Hillside provides a unique "concierge" service which can help with arrangements from the moment of death through the end of the shiva week. They will help plan the funeral and reception, will set up a house for shiva or visitations, and will arrange for meals in the house of mourning.

Engagement with the community through outreach, grants and sponsorships is part of Hillside's mission and its commitment to the entire Los Angeles Jewish community. They offer programs such as lectures on Jewish rituals of death and mourning, and "Grave Matters," a panel discussion on end of life issues including topics such as estate planning and advanced directives. Community Mother's Day and Father's Day Remembrance Services, led by prominent local clergy, are held annually. As part of the High Holy Days Jewish tradition of visiting the graves of ancestors, Hillside holds an annual Kever Avot v'Imahot service on the Sunday between Rosh Hashanah and Yom Kippur.
Through grants to various organizations, Hillside assists in providing social services for seniors, children, families, veterans, immigrants and the needy, supporting local food banks, grief counseling, legal aid agencies, vocational training, medical research, arts programming and more. They also provide educational and special needs camping scholarships.
Hillside's website has an especially good section on what to do in the event of a death. For more information about this unique memorial park, visit www.hillsidememorial.org or contact their General Manager, Paul Goldstein.